Our employee Judith shares her thoughts on Devir's "Bitoku."
Introduction and Game Premise


I was initially attracted to Devir's Bitoku for two reasons.  The first was Starling Games' Everdell, one of my favourite games. Everdell's gorgeous artwork combined with the adorable animal meeples was just too much for me to resist and these features definitely overlap in Bitoku.  In addition, the fact that both games are played over seasons (Everdell just one year, Bitoku over four years) was another plus for me.


My second main reason was that I love a game with a lot of meat on its bones and Bitoku delivers, dare I even say more so than Everdell?  Bitoku's gameplay offers a multitude of mechanics, including deck building, resource management, set collection, worker placement and more.  But, the mechanics are subtly balanced so there isn't just one main focus and a sprinkling of the others.


Ok, so what's the game's premise?  The setting is The Forest (no name), somewhere in Japan, where the Great Spirit once resided, but has now departed and will never return.  Replacing the Great Spirit will be a Bitoku, but only one who is worthy. Up to four players will compete to become that worthy Bitoku.  At the end of the game, whichever player has the most Victory Points (VP) is the winner.  (Handy note - the game also includes a solo variant, with differing layers of complexity).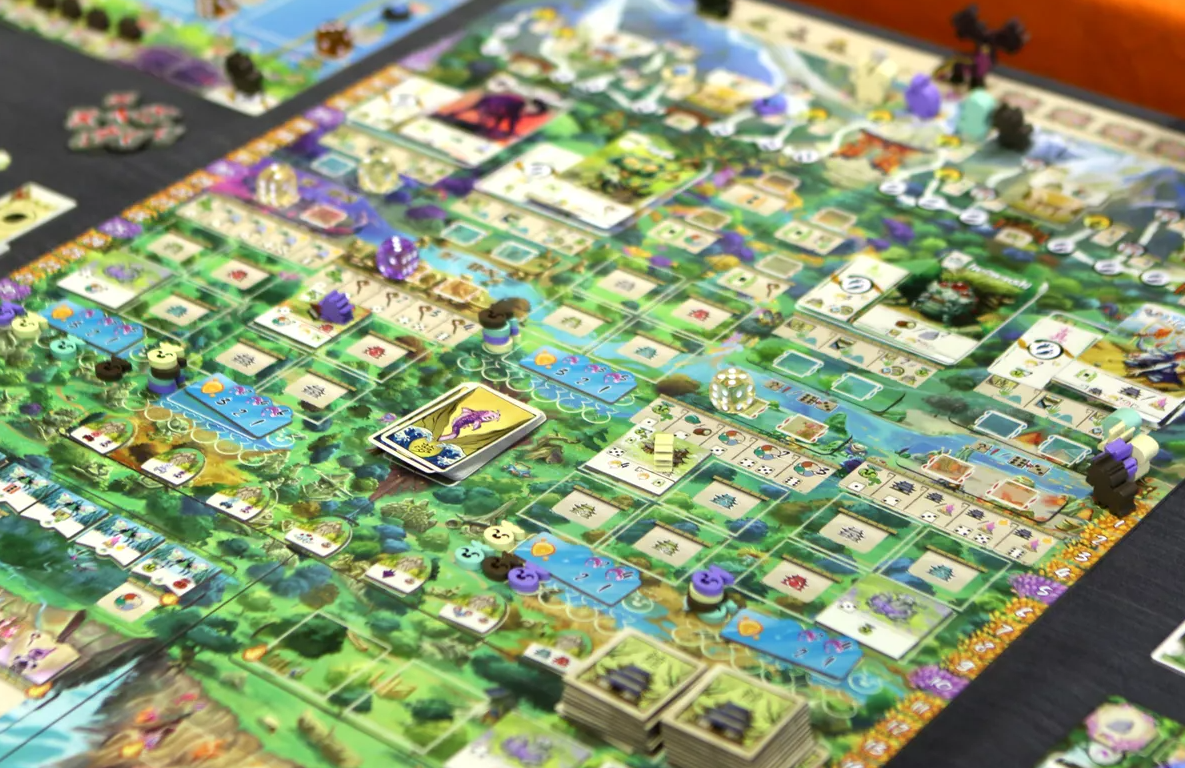 Game Components


You are not going to be disappointed as this is a FULL box of wonderful goodies where no attention to detail has been spared in ensuring you get a game with a definite luxury feel.  I'm not going to go into all the components, but a few I want to mention:


Main game board -

this is double sided.  One side for solo or two player games and then the reverse for 3-4 players.  For the higher player count there are cut-out areas (something which reminds me of childhood, an added bonus) with double sided  inserts depending on the number of players.  Regardless of the side, the board is beautiful with vibrant colours and so much life.  It's like a detailed painting - each time you look at it, you'll see something new. 

If you're like me, you may need some time to familiarise yourself with all the locations on the board game (helped along by references in the player aid and rule book), but it will always be a feast for the eyes.


Cards and cardboard pieces - I am no art critic, but it feels to me as though the artwork on the cards and cardboards pieces uses more muted colours and sharper lines.  I felt this helped me to differentiate these components to the game board.  If I do have one complaint, though, it's that with the cards in particular, it took me a while to understand which was which.  Over time, this got easier, but at the beginning I was literally counting cards and comparing with the quantities shown in the rulebook.  It would have been helpful, for me at least, if the rulebook had detailed these better.


Meeples - I mentioned above about my love for meeples and Bitoku doesn't disappoint.  From the amazing Great Spirit meeple to the pilgrims, design and execution is fantastic.  Special mention for the pilgrims.  The awake vs sleeping sides is such a simple, but adorable idea.


Player Aid

- I would call this a booklet as it's definitely one of the more thorough player aids I've used before and it's essential to have to hand. 
Game Play


There's a lot to understand in this game and Devir themselves admit that there is a "hefty volume of rules".  However, if you're like me and can be put off by substantial rule books (even if it's well-written) then I'd recommend watching any or all of the following: Radho's Runthrough; Devir's How to Play Bitoku; or Meepletown's Game Play & Review.


The game is played over four seasons of four years.  In each season certain events or actions take place:


Spring, "The Awakening" - consider your personal objectives as specified on your Vision Card and decide which Yokai (helpful guardians) you wish to keep in your hand.  Also, if you have any purple dream crystals, collect the rewards.  (This second part doesn't happen in the first year).


Summer, "The Call of the Guardians"  - the main season in the year where players take their turns by choosing one of four actions.  While the actions in themselves sound simple - (1) Play a Yokai; (2) Use an unlocked die (= worker); (3) Cross the River; or (4) Pass - what goes on behind each one is definitely not simple and you'll have an abundance of options.  It may be worthwhile saying at this point that if you are someone who suffers from analysis paralysis, then Bitoku may possibly not be your game. Possibilities in this season include obtaining a dragonfly or lost spirit, moving a pilgrim along the Paths of Wisdom, constructing a building, gaining resources or crystals.  And this really is just naming a few.  Scoring takes place during and at the end of the game, so make sure to remain vigilant.


Autumn, "The Reverence" - a short season which basically just determines player turn order.


Winter, "The Repose of the Forest" - the clean up and board resetting phase.  There are a number of things which need to be done, but these are straightforward.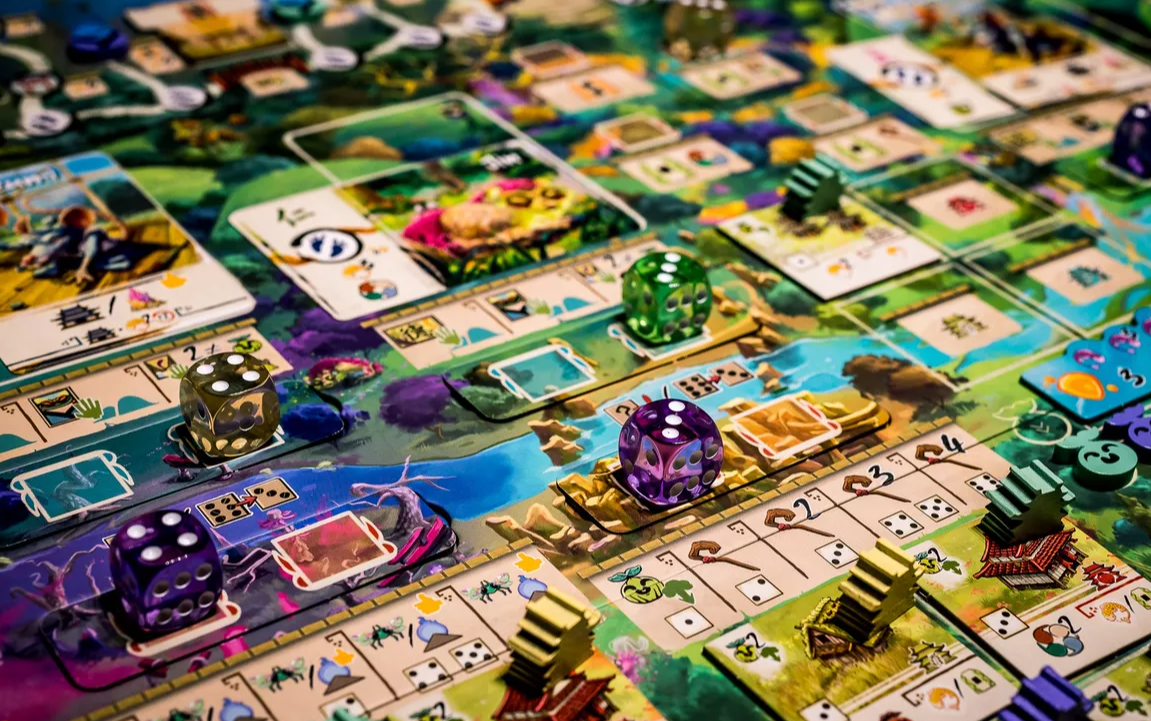 Game End and Scoring - there are so many ways to earn points, both during and at the game end.  Stay alert during the game so you don't miss out on any vital VP and for end of game scoring use the handy dandy list on the player aid booklet.


To conclude - the good, the bad, but definitely not the ugly:


I'm going to start with the negatives, for which I really haven't discovered that many.  Maybe more gameplays will highlight some things, but for now that isn't so.

I mentioned above about struggling to determine which components were which.  I would have liked more clarity on this in the rulebook.  Once you know, you know, but just getting there takes time (well, at least for me). And, on the subject of the rule book, I would also have liked the list of contents to be fuller.  While it does highlight each season, given that there's so much that can go on in the summer, it would have been helpful for each action and its corresponding page in the rules to be specified.

On the other hand, the rules are well-written, easy to understand and provide examples with images.  

One other criticism which Miranda pointed out is component storage.  Bitoku provides a full buffet of components.  I struggle to see how anyone could be disappointed with this.  However, even though with our store demo copy we have put everything carefully into plastic bags, once everything is in, the lid won't sit flush on the box.  Some form of in-box storage would be helpful and possibly also help save some time on game set-up, which I would estimate is around 15 minutes.

While watching Radho and Meepletown's gameplays, I did spot a couple of differences in how they were playing certain game aspects.  The rulebook clarified most of these, but one wasn't.  I'm not saying what this was, because as long as each player does the same thing, overall gameplay is not affected.

And, those are truly my only criticisms.  I feel almost traitorous saying I like this game more than Everdell's base game (and believe me, I looove Everdell).  But, Bitoku, just offers more mechanics.  I think there is a wealth of options in Everdell, but Bitoku has more, in my opinion.  Devir has also managed to keep the mechanics balanced.  Unless you weight gameplay in one direction, you have so many options.  

I also admire that Devir has included the solo variant called The Tengu.  While I'm not a solo player myself - the opportunity to beat my husband to a pulp in the world of board games is just too enticing me for! - Devir has put an amazing amount of effort in to provide this option, including all its complexity variants.  Bonus points to them!

Regarding the artwork, even if Bitoku doesn't offer you the type of game you enjoy, you have to concede that the artwork is just a delight.

I admit that I've never played any of Devir's games before.  However, if Bitoku is anything to go by, I will be researching their other games.

And those are my thoughts.  If you've reached this point, many thanks for taking the time to read all of this.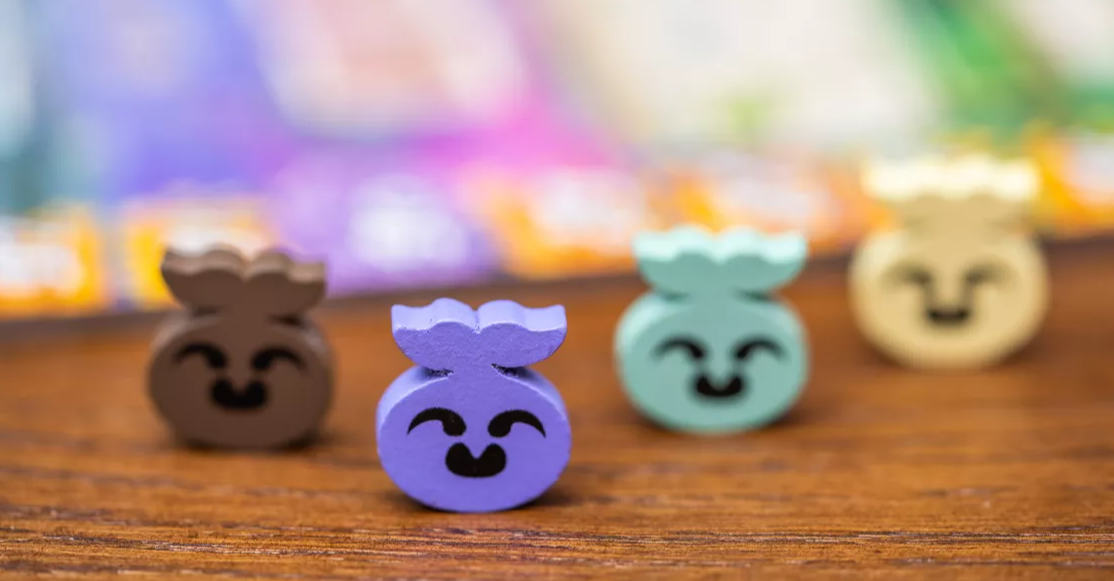 --Judith, Bitoku Fan